Tips for Choosing the Right Ford Work Vehicle for Your Business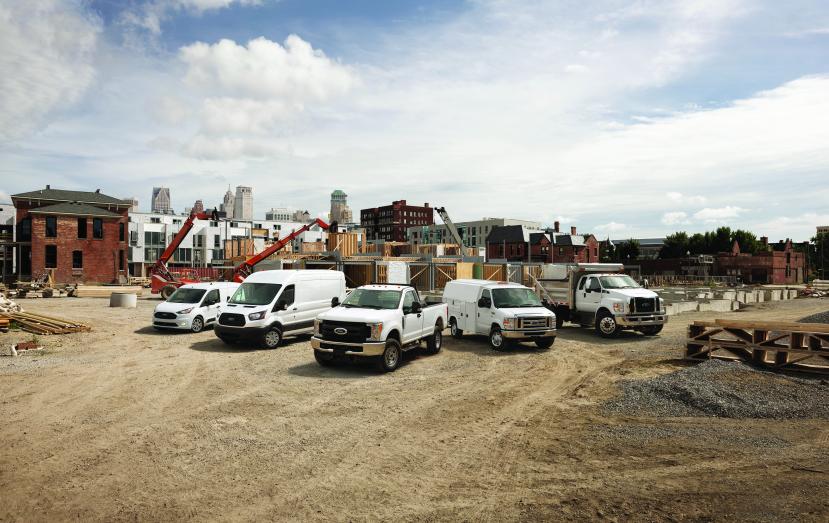 How to Choose the Right Ford Commercial Vehicle for You.
Ford has long been an esteemed brand in the commercial truck industry. Their durable frames, reliable drive trains, and comfortable cabs make them a great pick for commercial applications. However, shopping for a new Ford commercial vehicle to add to your fleet involves numerous important decisions. What type of commercial truck is right for your team? Will you purchase new or used? What details do you want to ensure your crew has what they need to get their work done? While shopping for a work truck can feel complex, the good news is that armed with the right tips, you can break down the process and find the ideal Ford work vehicle for your company's needs. The following guide will help you determine which Ford work truck is the right addition to your fleet.
Start With a Quality Dealership
As you shop for a new Ford truck, it is important to begin your journey with the assistance of a quality dealership. While Ford is renowned for its reliable vehicles, you want to ensure that the commercial truck you purchase has been well taken care of if it's pre-owned and is priced fairly if it's new. Use the following tips to ensure the dealership you pick is reputable and well-established:
Find a dealership with a long-standing reputation. Avoid shopping from small lots that don't have any online reviews or methods for researching their business. A quality dealership should have a history of happy customers.
Look for a dealership with a service center. Working with a dealership that also offers maintenance, repairs, and parts can ensure you keep your entire fleet in tip-top shape long after the sale. Additionally, dealerships with service centers are more likely to keep their used trucks better maintained.
Choose a dealership with a large selection of Ford commercial vehicles. Ford has designed a vast array of commercial work vehicles. Make sure you work with a dealership with a quality inventory, allowing you to find exactly what you need at a fair price.
Choose a dealership that has expertise in commercial vehicles. Working with a team that is experienced dealing with commercial vehicles ensures you are getting accurate information about the vehicle you purchase. Experienced staff can also help guide you through the best options for your specific needs.
Find a dealership with upfit road-ready work trucks. Save some time by shopping at a dealership equipped with road-ready work trucks. This will make it more efficient to find exactly what you need and allows you to begin using your truck for work right away.
Prepare a List of Needs
Prior to taking the time to visit a dealership in person, create a list of commercial truck necessities. This list should focus on what features will be critical for ensuring your crew's safety and ability to work efficiently. For example, the following are all Ford commercial truck options, each designed for different industry applications:
Enclosed cargo space: Whether you opt for a Ford Transit van or a Ford 750 box truck, if keeping cargo protected is task critical, be sure to explore options with a covered cargo area.
Dump capabilities: In the agricultural, construction, and junk removal industries, having a dump feature is a must. Ford work trucks are often upfit with back dumps, rollovers, or tilt-dump features.
Tool storage: For HVAC, plumbing, and electrical businesses, having ample storage space for tools and parts is a necessity. Choose a Ford work vehicle that already has tool space built in, adding to the efficiency of your job.
Flatbed: If you plan to haul bulky equipment or tools, as is commonly the case for landscaping and construction crews, opting for a Ford flatbed truck can be the ideal pick.
Towing capabilities: Your Ford work truck will need to tow other trailers or equipment in some cases. For these scenarios, be sure to shop for a Ford truck that offers ample towing capacity.
Service Body/Upfitted Truck: In many industries, choosing a work truck that features a service body or is upfitted for a specific task is critical. Look for an inventory that has the specific body type and features necessary and is road-ready.
Regular Cab or Crew Cab: Depending on your business type and the size of the crew your projects require, find a Ford work truck with either a two-door or four-door option.
Ask Questions
While you have a good idea of what your business needs from your next Ford work truck, asking a knowledgeable sales team a few key questions can help you hone in on the best pick for your fleet. Start with the following list of questions as you peruse the lot:
What Ford models do you recommend based on my business's needs?
For used vehicles, what maintenance records are available for this truck?
For new vehicles, what financing options are available?
What extra features come with this vehicle? For example, does the Ford box truck come equipped with a backup camera for safety? Does the Ford Transit come with the option of leather seats?
Does this dealership offer custom graphics and wraps for work trucks?
Never hesitate to ask as many questions as possible while researching your options. The more information you can gather, the easier it will be for you to make the best decision for your business.
Consider the Pros and Cons of Used vs New
One of the biggest decisions you will need to make when picking out a Ford work truck for your fleet is whether you opt for a new or a used vehicle. Both new and used vehicles have their own pros and cons. New Ford commercial trucks will allow you to spend less time focused on repairs. However, a new work vehicle will also cost you more upfront. Conversely, a used truck might save you on monthly payments now, but it might cost you repairs down the road. When it comes to choosing between new and used, there is no right or wrong answer. For this reason, it is best to approach the situation with an open mind. A lot will depend on what inventory is available and your specific needs.
Visit Boyer Trucks Today!
Ford work trucks make a powerful addition to any business fleet. Whether you're a small landscaping business looking to upgrade your work truck or a large delivery operation looking to add a dozen Ford work vehicles to your fleet, we're here to help. We invite you to come visit us at Boyer Trucks. We carry a vast selection of Ford commercial trucks and vehicles, spanning numerous models. We can also assist you with a truck upfit to ensure your exact industry specifications are met. Come talk to the team at Boyer Trucks today and find out why we're the trusted choice for Ford work trucks.