Consider These 5 Things When Choosing the Right Isuzu for Your Business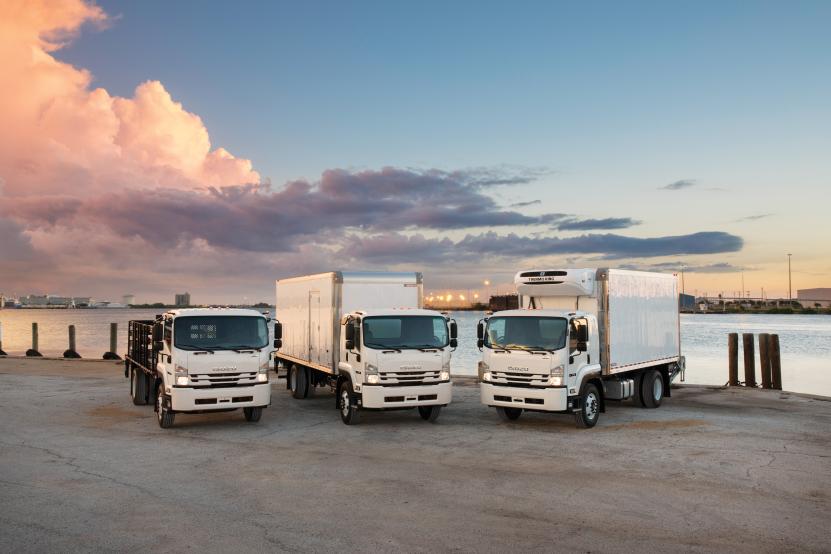 5 Tips to see if Isuzu is Right for You.
Purchasing an Isuzu commercial work vehicle is a quality business investment. Isuzu is a trusted manufacturer of durable and reliable work trucks that help ensure daily work can be accomplished efficiently. And with an Isuzu chassis as your vehicle's base, the options for a truck upfit are numerous, making this a versatile choice regardless of your industry. When purchasing an Isuzu work vehicle for your business, the following five tips will help you narrow down your choices, ensuring that you land on the ideal pick for your specific needs.
1. Start With Your Industry Requirements
When shopping for an Isuzu work truck, you will be faced with a wide selection of vehicle types. Isuzu makes everything from cargo trucks to stake bed trucks. Each truck is designed to handle industry-specific tasks. Before heading to a nearby dealership, start by creating a list of your industry requirements. The following are a few examples of what you might need to prioritize when purchasing an addition to your fleet:
Protected cargo space: For delivery services, moving companies, and other industries where protecting cargo from the elements is a must, it will be important to shop for an Isuzu commercial truck with a covered cargo area.
Ability to handle bulky loads: In some industries, such as agriculture, construction, and landscaping, it is important to purchase an Isuzu truck that has an open and large flatbed space. This can ensure that even bulky equipment can be hauled to job sites without hassle.
A dump feature: If your company deals with aggregate materials, landscaping, or is responsible for hauling away trash or junk, a dump feature will be a critical component to any Isuzu work truck you choose.
Adequate seating: For industries where numerous employees need to be shuttled between work sites, choosing an Isuzu with ample seating is a necessity. The good news is that Isuzu offers a variety of cab options, making it possible to find the right fit for your crew.
Able to haul equipment: Whether you're hauling your work equipment on a roll-off body or on a trailer attached to your Isuzu, making sure the Isuzu you pick can haul necessary equipment for your business is important.
With the basics covered, it will be easier to find the right Isuzu commercial vehicle for your business.
2. Determine Your Budget
Another important factor when shopping for a commercial work truck is determining your budget. Having a rough estimate of what you are hoping to spend will make it easier for a dealership to assist you in honing in on the right inventory for your needs. When calculating your budget, be sure to consider what financing options are available. With the right financing, you might be able to afford a higher-quality truck that is a better fit for your needs, which could translate to higher profits. In this case, the up-front investment is well worth every penny. In many cases, the dealership will offer their own in-house financing options, which can be a great way to explore your business' best options.
3. Create a List of Nice-to-Haves
Beyond just prioritizing the necessary features for your Isuzu, it is worth creating a secondary list of nice-to-haves. These can be features that will enhance your use of the truck but are not crucial for the operation of your business. Examples of items that might make it on your nice-to-have list include all of the following:
A backup camera to improve driver safety
An upgraded stereo for long drives
Built-in cargo space in the cab
Custom shelving in the cargo bay
An interior door between the cab and cargo space
In-cab controls for dump mechanisms
Leather interior
Liftgate
Work Lights
These are just a few of the upgrades you might consider adding to your list. The goal is to think through any amenities that might make the work you and your crew do easier.
4. Find a Reputable Dealer
After building out a solid list of must-haves and nice-to-haves, it is time to find a reputable Isuzu work truck dealer. When searching for a dealership, keep the following tips in mind:
Look for a dealership with a well-established reputation. Avoid shopping at used truck lots that seem to pop up overnight and disappear equally as fast. An established dealership will be focused on upholding its reputation in the community and will be motivated to provide better services.
Ask about inventory. Having more than one option to choose from can help you get the best deal and find the ideal Isuzu for your fleet. Ask any potential dealership about what size inventory it has and how many Isuzu trucks are available.
Opt for a dealership that also offers maintenance services. Having an on-site service bay makes it easier for you to keep your fleet maintained and up to date on DOT inspections.
5. Ask Questions
After you have narrowed down your options, schedule a visit to a nearby dealership. As you compare different Isuzu trucks, don't hesitate to ask the sales team as many questions as possible. Gathering information prior to making a purchase is the best way to ensure you are getting exactly what you need. Ask questions like these:
How many miles are on this truck?
What's the gross vehicle weight for this vehicle?
What is the truck's fuel efficiency?
What truck upfit options are available for this chassis?
What financing options are available for this truck?
A quality sales team will be willing to answer as many questions as you have. If they don't know the answer, they should offer to find the details for you.
Visit Us at Boyer Trucks
If you are looking to purchase a new work vehicle for your fleet, come visit us at Boyer Trucks. We carry a vast selection of Isuzu work trucks, and we will be more than happy to assist you in finding the right fit. Whether you work in agriculture, construction, landscaping, or delivery, we are here to ensure you leave our dealership with the commercial vehicle you need to get your work done. Come talk to us today and find out why we are the trusted Isuzu dealership for hard-working teams.