Types of Upfit Commercial Truck Bodies and Their Purposes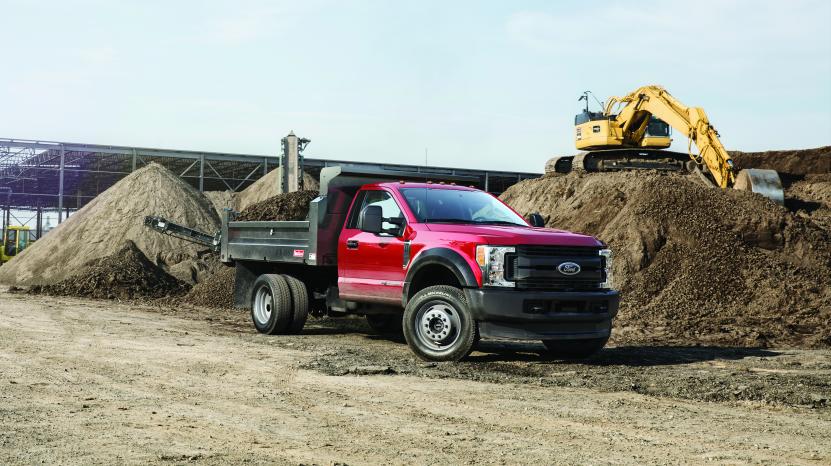 Learn More About Popular Commercial Upfits and Their Uses.
Upfit road-ready trucks are the backbone of many industries. From landscaping trucks that show up to households across the country each day to flatbed trucks that deliver heavy machinery to construction sites, the right commercial vehicle helps to ensure tough work can be accomplished efficiently and safely. At Boyer Trucks, we carry a wide selection of upfit road-ready trucks. We also can work with companies that need to customize a cab and chassis truck for a specific need. Backed by trusted manufacturers such as Ford, Isuzu, Western Star, and Freightliner, our work trucks are designed to handle the most rigorous of work. Check out the following types of upfit commercial truck bodies we carry and the industries that can benefit from their use.
Service Body Trucks
Service body trucks are designed to take equipment and tools anywhere. These trucks feature ample storage and convenient drawers, exterior toolboxes, and extra work lights. Designed for ultimate efficiency on the job, crews rely on these trucks to make it easy to transport necessary equipment to service areas. Many service body trucks are equipped with a utility bucket, allowing technicians to access power lines, heavy-duty engine bays, and other elevated items. A service body truck can be designed on a variety of chassis, allowing companies to customize their service truck to meet specific requirements. Industries That Benefit From Service Body Trucks
Highway support
Railway repairs
Civil utility
Tree trimming
Energy companies
HVAC
Electricians
Plumbing
Mechanics & Auto Shops
Landscaping and Lawn Trucks
Landscaping crews rely on their work trucks to transport both equipment and crew members to and from job sites. Lawn body trucks are usually equipped with an open flatbed, often featuring a built-in ramp for convenient loading and unloading. Landscaping trucks can feature exterior toolboxes, underbody storage, and custom tool storage. Isuzu is a common chassis manufacturer for the base of a landscaping vehicle, and numerous cab options are available, allowing businesses to pick the right seating space for the number of crew members on a team. Industries That Benefit From Landscaping Trucks
Landscaping crews
Arborists
Lawn services
Road and driveway services
Roofing
Construction
Pool services

Flatbed and Stake Body Trucks
A flatbed truck is one of the most versatile trucks on the market. These trucks are used across industries for hauling heavy and oversized equipment and cargo. Stake body trucks feature the added bonus of removable and customizable stake configurations. This allows teams to anchor down cargo and create a protective wall or fence around equipment. Flatbed trucks are frequently built on a Ford or Isuzu chassis, offering extreme durability and low-maintenance requirements. Industries That Benefit From Flatbed/Stake Body Trucks
Agriculture
Construction
Oil and gas
Road construction
Landscaping
Parks and recreation
Logging
Equipment transportation
Driveway services

Dump Body Truck
A dump body truck hauls junk and aggregate materials safely. Dump trucks can have numerous styles of dump bodies, including side dumps, roll-offs, and bottom dumps. Dump trucks feature a variety of dump mechanisms from hydraulic systems to winch and cable systems. Choosing the right style of dump truck will depend a lot on how the work truck will be used. Regardless of the style of dump truck chosen, these trucks will be upfit on a durable and powerful chassis, capable of hauling heavy loads. Ford, Isuzu, Western Star, and Freightliner are all great chassis for dump bodies. Industries That Benefit From Dump Trucks
Agriculture
Oil and gas
Junk removal
Waste management
Landscaping
Construction
Snow removal
Aggregate services

Plow Trucks
Plow trucks or spreader trucks are powerful work trucks designed to push heavy snow, gravel, rocks, and other materials. Equipped with a single or dual front plow, these commercial vehicles are frequent additions to city and state fleets. In addition to offering a variety of plow styles, spreader trucks can be upfit to a variety of chassis. Choose from a light-duty Ford or a heavy-duty Freightliner depending on your needs. Industries That Benefit From Plow Trucks
Road and highway snow removal
Residential snow removal
Corporate and retail snow removal
Construction
Agriculture

Crane and Mechanic Body Trucks
A mechanic body truck hauls tools and parts to job sites efficiently. Many of these trucks are upfit with cranes, which allow construction teams to haul heavy items across job sites. Crane trucks are often equipped with ample tool storage, underbody compartments, and specialized equipment. These commercial vehicles are extremely durable and designed to handle rigorous applications. Industries That Benefit From Crane/Mechanic Body Trucks
Arborists
Construction
Civil services
Mechanics
Energy companies
Electricians
HVAC
Auto shops

Box Trucks
A box truck is a work truck designed to haul cargo while keeping it protected from the elements. Available in a variety of sizes, these commercial vehicles can be customized to meet the specific needs of a business. For example, for a grocery delivery service, the box truck might feature an access door to the cargo space from the cab. Box trucks are frequently upfit on Ford and Isuzu chassis, which offer excellent fuel economy and long-term reliability. These work trucks can be designed with ample cab space for large crews or with a focus on safety amenities, such as backup cameras. Industries That Benefit From Box Trucks
Delivery services
Moving services
Storage companies
Landscaping
Construction
HVAC and plumbing
Rental companies
Junk removal
Electricians

Cab & Chassis Trucks
If you're looking to create a customized work truck, starting with a cab and chassis truck is the perfect first step. At Boyer Trucks, we specialize in helping companies customize trucks with any body needed to fit the job. Starting with a cab and chassis and opting for customization ensures that exact specifications can be met. This is a great fit for businesses operating in a highly specialized or niche area. Industries That Benefit From Cab & Chassis Trucks
Boyer Trucks Offers a Large Selection of Upfit Trucks
Boyer Trucks has the largest selection of upfit road-ready trucks in the upper Midwest and Minnesota. If we don't have the truck you need, we can special order the commercial vehicle you want. Our upfit road-ready trucks are designed for ultimate durability and low maintenance. We understand how costly downtime can be for any business, which is why we carefully vet the work trucks in our inventory. At Boyer Trucks, we also offer a variety of maintenance and repairs through our service department, as well as DOT inspections. Whether you're shopping for a new commercial vehicle or you are bringing in a used work truck for repairs, our team is ready to assist you in getting back to the job. Come visit us today to learn more about our upfit commercial truck inventory.