Why Is the Ford Super Duty the Ultimate Work Truck?
Ford Super Duty Trucks are the most capable work truck, and here's why.
Ford has long been a trusted name in the work truck industry. Since 1903, Ford has manufactured quality work trucks designed to handle the rigors of even the toughest of jobs. In fact, Ford is one of the top providers of light-, medium-, and super-duty truck options, each truck designed to offer reliable service year after year. With the Ford Super Duty truck, this legacy lives on. Whether you opt for the F250, F350, F450, F550, or F600, this work truck has been designed to provide you with lasting service. From the basics to the finest details, today, we'll take a look at the top 10 reasons why the Ford Super Duty is the ultimate work truck.
1. Towing and Payload Capacity
The Ford Super Duty features the best maximum available gas conventional towing rating in its class at 21,000 pounds. Additionally, for those who opt for the diesel engine, the Ford Super Duty also wins with the best maximum available towing rating at 24,200 pounds. This towing capacity is higher than any other light-duty pickup truck. The Ford Super Duty also features a 37,000-pound gooseneck tow rating with the best maximum available 32,500-pound fifth-wheel tow rating in its class. The Super Duty gooseneck and fifth-wheel substructure are actually attached to the frame, offering superior durability.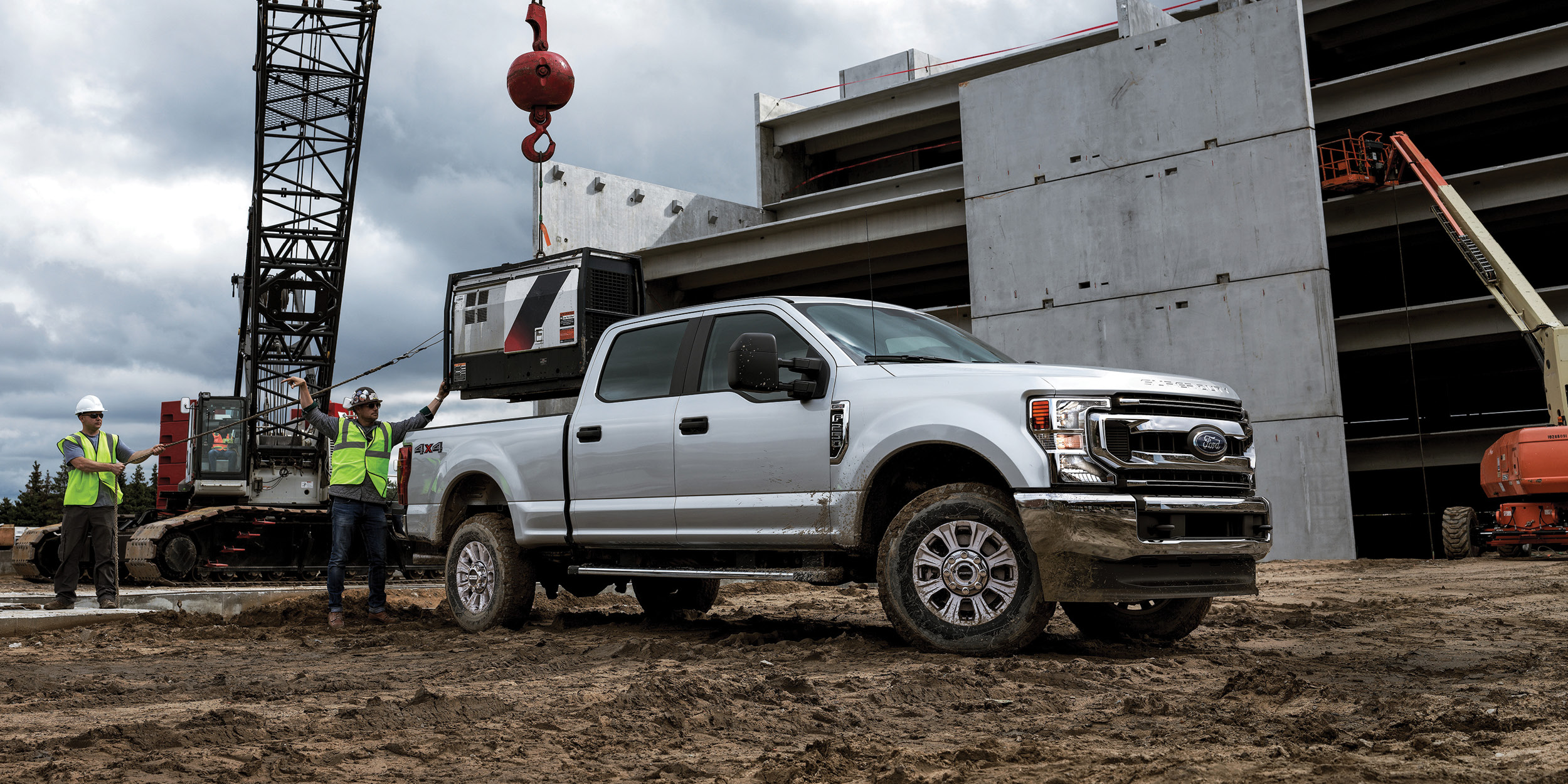 2. Lightweight but Strong Frame & Chassis
When your job calls you to go on difficult-to-maneuver roads and rough worksites, the lightweight but strong frame and chassis of the Ford Super Duty is the ultimate win. This rugged, fully-boxed frame was designed with high-strength, military-grade, steel alloy. The heavy-duty axle, suspension, and drive train add to the truck's durability. Additionally, a factory-installed weight-carrying hitch has been built into the frame of the truck, allowing this truck to earn top numbers in every single category of hauling and towing.
3. Industry-Leading Diesel & Gas Engines and Transmissions
When it comes to a work truck, a vehicle is only as good as the engine and transmission that power it. This is really where Ford shines. The Super Duty features a powerful lineup of available engines. Choose from the 6.7L Power Stroke V8 Turbo Diesel with 1,050 pound-feet of torque, or opt for the capable 7.3L gas V8 with the best gas power ratings in its class. The Super Duty base transmission is a six-speed automatic, but most of the latest Super Duties feature a 10-speed automatic gearbox. These powerful transmissions are the perfect pairing for the beastly engines Ford is serving up.
4. Numerous Trim Options
In addition to having your choice of engines, the Ford Super Duty is available in numerous trim options:
XL
XLT
Lariat
King Ranch
Platinum
Limited
From massaging seats, wireless charging docks, and upscale lighting options, each upgraded trim package takes luxury to the next level.
5. Superior Interior Comfort
When you are hard at work, sometimes it is the smallest amenities that bring you the most comfort. Ford designed an interior cab aimed at making your long day a little more relaxing. Leather-trimmed seats, dual-zone climate control, and a 10-speaker Bang & Olufsen stereo are just a few of the interior amenities that will make your workday more enjoyable.
6. Cargo Space for Real Hauls
Depending on your needs, you can pick between two bed sizes, a 6.75-foot box or an 8-foot box. In addition to the standard cargo space options, you can also choose to upfit a larger cargo space onto the Super Duty body.
7. Ford Telematics
When it comes to fleet management, Ford is leading the way in on-board technology. Ford Telematics lets you monitor vehicles in real time, understanding exactly where they are going, how they are used, and how they run. Live GPS tracking makes it easier to know which driver is closest to the next call. Detailed reporting on driving history will outline driver movements and behaviors, allowing you to better audit routes and maximize fleet performance.
8. The Latest in On-Board Technology & Safety
Beyond just Ford Telematics, the Ford Super Duty is equipped with the latest and best in technology options:
A Wi-Fi hotspot, allowing work teams to stay connected on the go
Sync 4, a voice recognition, cloud-based system that can integrate with your smartphone
Upgraded sound systems
Touch screen navigation
8.0-inch display in the gauge cluster
In addition to all the best in on-board technology, Ford took a serious focus on safety with their Super Duty series. Driver assistance features include Pre-Collision Assist with Automatic Emergency Braking (AEB) and Pro Trailer Backup Assist.
9. Warranty and Maintenance Coverage
When you are operating a fleet of commercial vehicles, the ongoing maintenance of your trucks can quickly become a headache. This is where Ford once again takes the lead. The Ford Super Duty truck features industry-leading extended warranties. And at Boyer Trucks, we can help you get the most out of your warranty coverage. We can assist you with ongoing maintenance and service, meeting all Ford warranty requirements.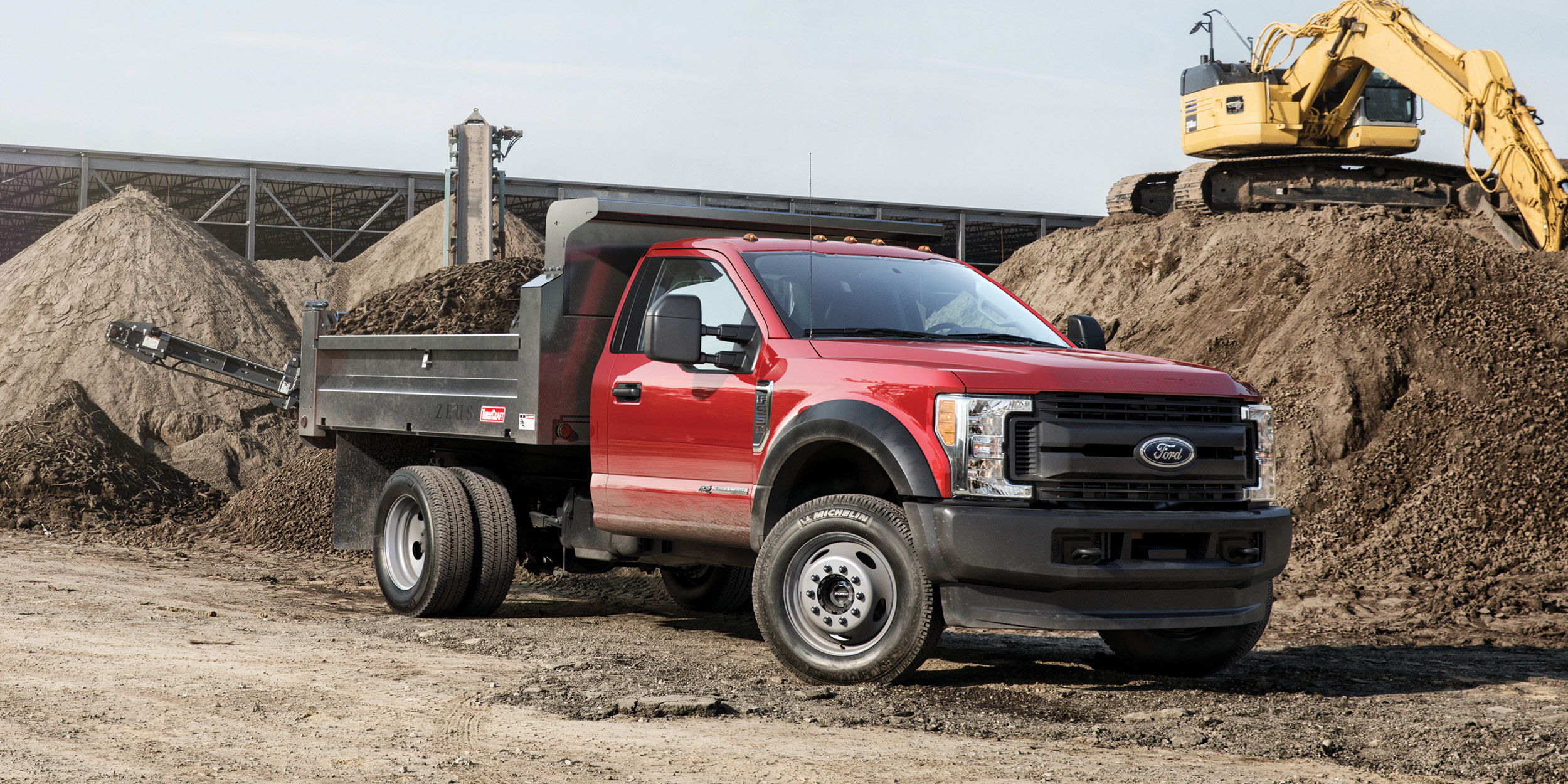 10. Custom Body Options for Cab & Chassis
The Ford Super Duty makes the ultimate work truck, regardless of industry. In fact, one of the beautiful things about the Super Duty is that the truck's cab and chassis are the perfect foundation for almost any truck upfit. At Boyer Trucks, we can help you upfit any of the following truck styles onto the Super Duty cab and chassis:
Visit Boyer Trucks Minneapolis to Purchase the Ultimate Work Truck
There is no doubt that the Ford Super Duty is an incredible powerhouse. When you are looking for the ultimate work truck, Ford is there to deliver. If you are interested in purchasing a Ford Super Duty for your business, commercial fleet, or personal use, come visit the team at Boyer Trucks Minneapolis. At Boyer Trucks, we can not only assist you in picking out the right Super Duty for your needs, but we can also work with you to upfit the cab and chassis with any body style you need. In addition, we can help you with ongoing maintenance through our full-service center. We also provide multiple finance options that fit your expectations. Come talk to our team today.