What to Consider When Purchasing From Our Available Sleeper Trucks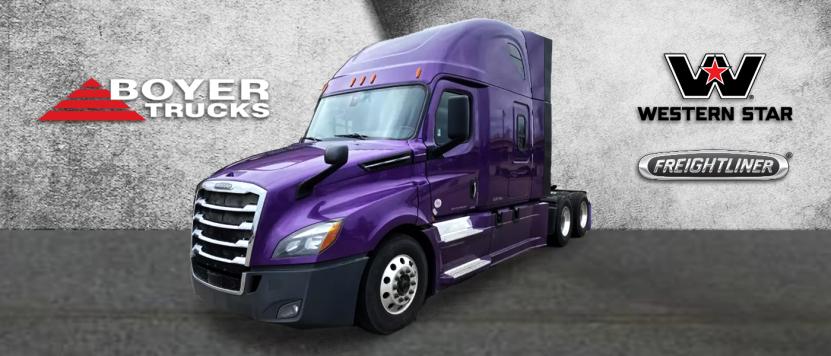 Designed with hard work in mind, the goal of a sleeper truck is to provide a comfortable living quarters for OTR hauling. Sleeper trucks are designed to ensure you're meeting regulations around driving time versus resting time. Over at Boyer Trucks, we carry inventory from the most trusted manufacturers in the industry including Western Star, Freightliner, and other top brands.
What is a Sleeper Truck?
Sleeper trucks, also known as a sleeper tractor, is a semi truck with built-in sleeping quarters. This truck offers a comfortable place for the driver to rest while hauling trailers long distances. Designed to have the passenger and driver seats at the front of the cabin with the rest of the cabin dedicated to a living area.
Most sleeper trucks will include space for a bed, a small kitchenette, and a storage area, but some can offer features of a traditional RV. Depending on the distances you plan on going in your sleeper truck, the more emphasis you will want to place on the size of the cabin and the other types of amenities in the truck.
The Length of a Sleeper Truck
Sleeper trucks will vary greatly in length depending on your goals for the sleeping and living quarters. When sleeper trucks were first designed, they were around 18-24 feet long. Over time they became longer thanks to designs that considered the comfort of long haul drives. Numerous options regarding length are available on today's market.
Working with a knowledgeable sales staff can help you explore the best options for your needs. For example, if comfort is your main concern, you can consider a more robust build-out and longer length. Conversely, a shorter cab will suffice for infrequent overnights or quick roadside naps.
Design Options Available
The one obvious benefit that sleeper trucks offer include a home away from home, and a place to sleep. Options available to make your sleeper truck comfortable:
Table
Desk
Sofa
Mini fridge
Kitchenette
Sleeper climate control
Double bunks for team drivers
These options give drivers a comfortable place to relax during downtime without the added cost of a hotel room.
What Should I Consider When Purchasing a Sleeper Truck?
Semi trucks are not a small investment. The goal for semi trucks is to haul loads long distances. For this reason, the engine and other vital components under the hood should be top of mind when making your purchase. The long distance haul also means you need to consider more than just the mechanics of the truck, and offer a comfortable place for the driver to take their necessary breaks and a place to stay overnight.
Take A Look At Our Great Options Available for Sleeper Trucks:
Location Available At:
BOYER SAVAGE
8025 W Hwy 101 Savage, MN 55378
(952) 846-6900
Location Available At:
BOYER SAVAGE
8025 W Hwy 101 Savage, MN 55378
(952) 846-6900
Find More Options Here: Boyer Sleeper Trucks
Boyer Trucks has been serving the midwest since 1927. With 6 locations across Minnesota, Wisconsin and South Dakota we are your trucking experts. For sleeper truck sales, parts and service our experienced and knowledgeable sales team is here to serve you.
We sell and service industry leading box truck manufacturers such as Freightliner and Western Star. Boyer is passionate about helping our hardworking community members find the sleeper truck that will best fit their needs.
Call or visit us today: (612) 676-3800