8 Must-See Work-Ready Commercial Trucks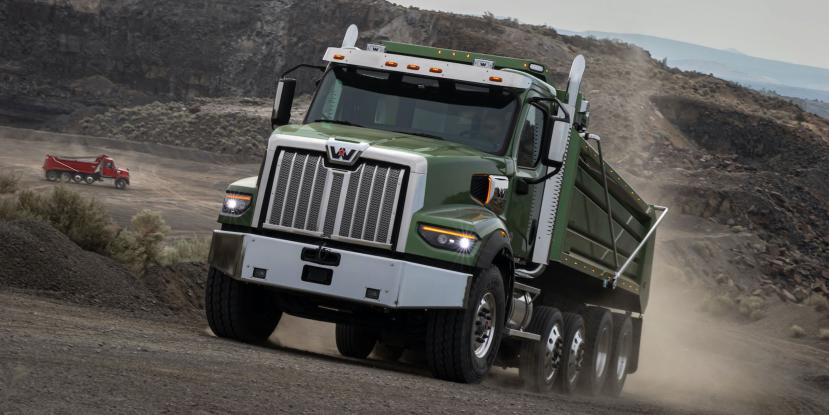 These 8 Work-Ready Commercial Trucks Get the Job Done on Day One!
When time is of the essence, adding a work-ready truck to your fleet is the answer. The faster you can get your crew to the next job site, the more money your business can make. A work-ready truck is a vehicle you can purchase and use all on the same day. Rather than waiting for additions to an existing truck, purchasing a work-ready vehicle for your fleet allows you to tackle more business right away. At Boyer Trucks, we understand how important it is to have access to a quality inventory of work-ready trucks, which is why we are constantly adding makes and models to our dealership. Boyer Trucks has the largest inventory of light-, medium-, and heavy-duty work-ready and upfit road-ready commercial vehicles in the Midwest. Check out the following 8 must-see work-ready trucks and talk to us today about the commercial vehicle you need to move your business forward:
1. 2021 Ford F750 — Crane Truck
Ford's F750 series delivers ultimate power and durability — ideal for the most rigorous of applications. The Ford F750 Crane Truck is no exception. With a rugged body constructed of 10 gauge galvannealed steel and aluminum doors, this truck is ready to handle whatever the job brings. The 12,000-pound crane on this truck will quickly be a favorite piece of equipment, providing years of trouble-free service. Additionally, the Ford F750 Crane Truck is equipped with ample storage space, emergency lights, an on-board generator, and a welder. Put this road-ready truck to work the same day you purchase it.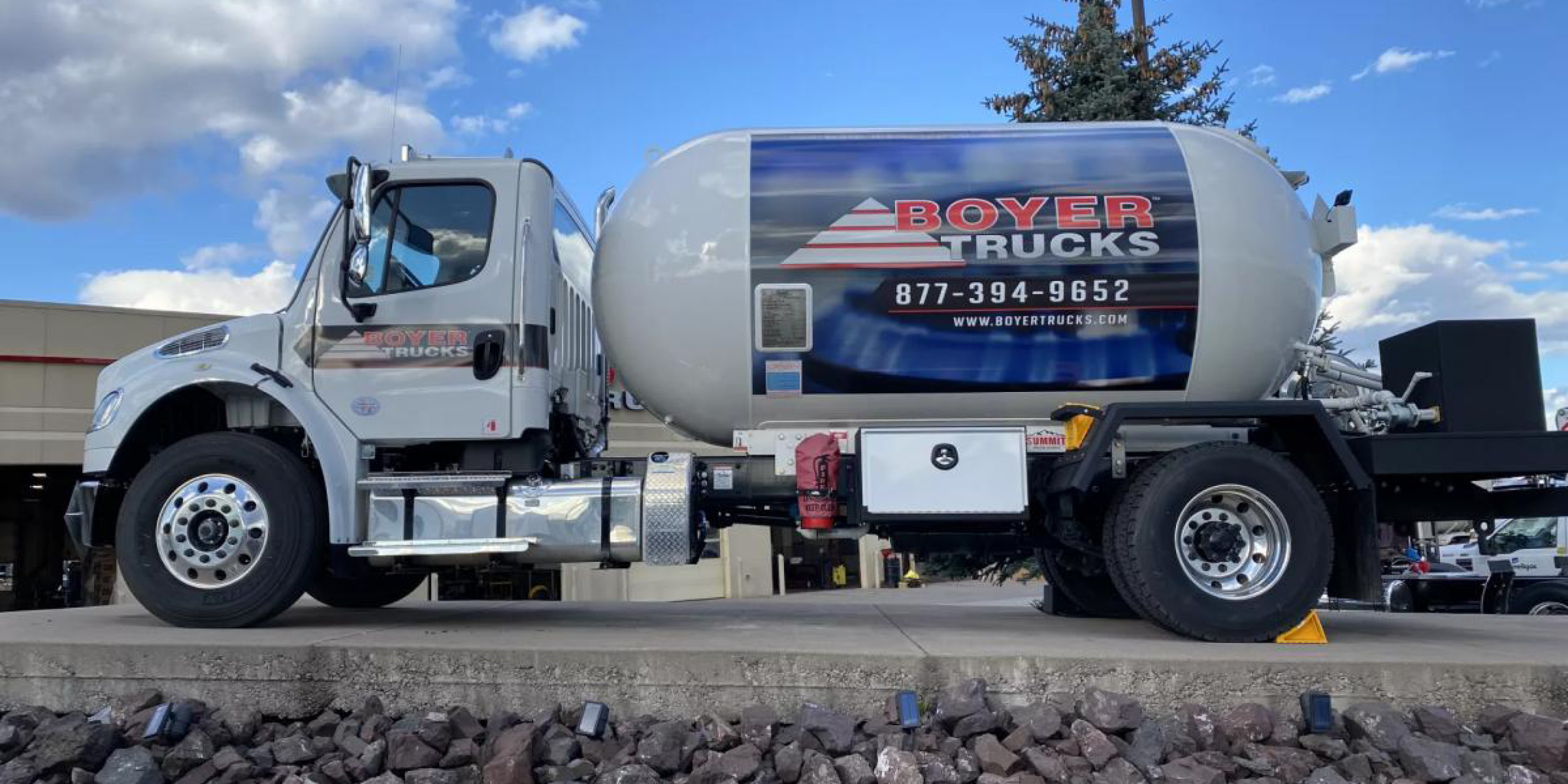 2. 2020 Freightliner M2 106 Heavy Duty — Propane Truck
Freightliner has long been a trusted name in the commercial trucking industry. These heavy-duty trucks offer extreme durability and outstanding power. The 2020 Freightliner M2 106 Heavy Duty is no exception. Upfitted as a propane truck, this beastly vehicle features a Cummins L9 engine with 330 horsepower. Paired with the trusted Allison transmission, this truck is ready to tackle any job. In addition, the attached propane tank holds up to 3,200 gallons. As a road-ready truck, this work truck can be purchased and used right away. This allows propane deliveries to be made on time and for potential area expansion.
3. 2020 Isuzu NPR HD — Box Truck
Isuzu is beloved in the commercial vehicle industry for its reliability and excellent fuel efficiency. For delivery businesses and other industries requiring a covered cargo space, the 2020 Isuzu NPR HD box truck is a winning choice. This medium-duty truck features a 150-inch wheelbase and 297 horsepower. Its unique cab-forward design allows for more cargo space for the body of the truck. Additionally, this work-ready truck is equipped with power windows and power locks, a backup alarm, heated mirrors, and three-person seating. A 12-foot walking ramp makes it easier for crew members to haul goods in and out of the back, improving efficiency and safety.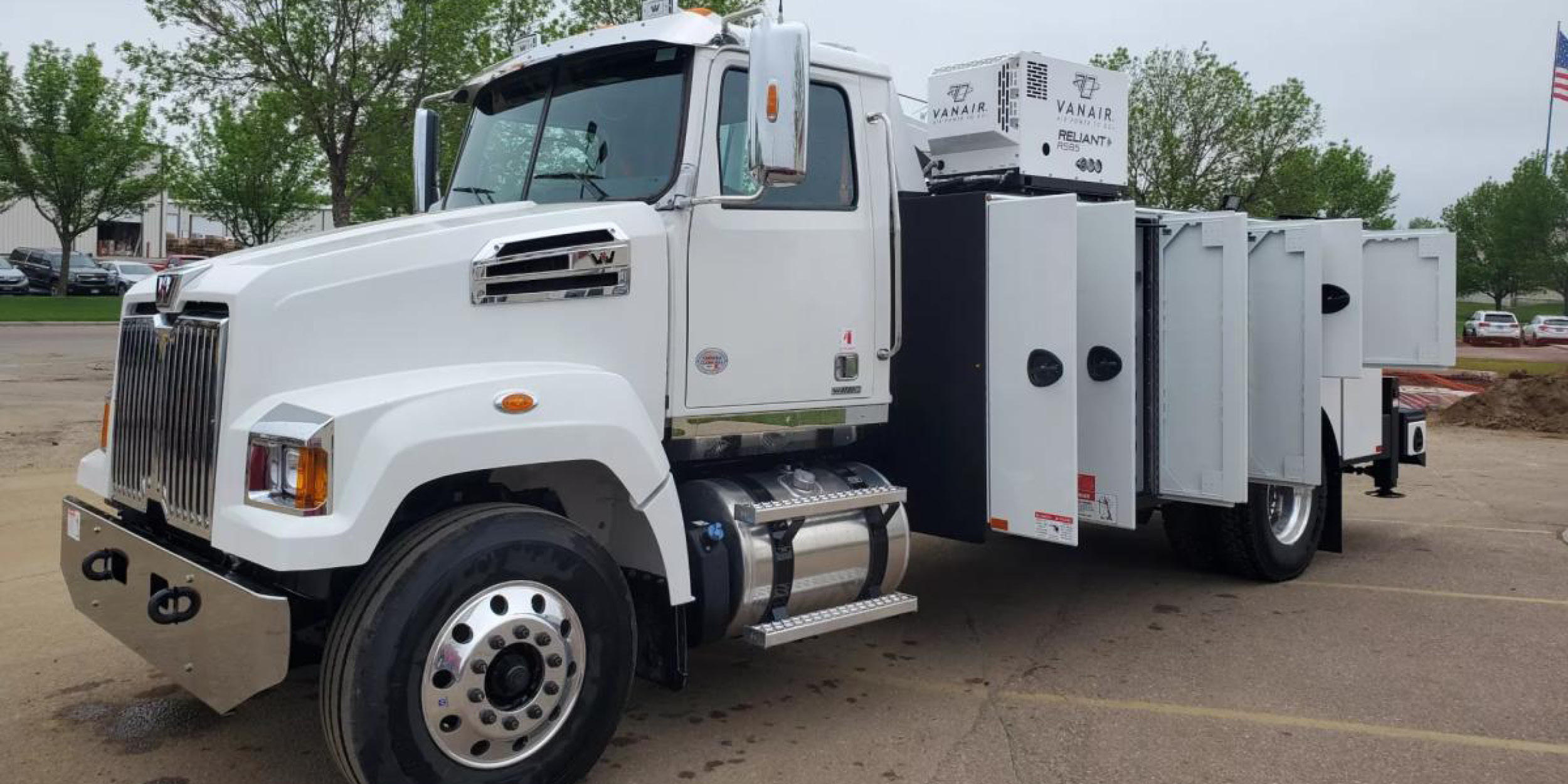 4. 2021 Western Star 4700SF — Service Truck
This 2021 Western Star Service Truck is a durable truck with a Cummins L9 engine featuring 350 horsepower. Designed with a sturdy body, this service truck is capable of visiting even the most rigorous job sites. With the trusted Allison transmission, you can rely on this truck to deliver long-term service with low-maintenance needs. Additionally, this truck is equipped with air suspension for a more comfortable ride. You can purchase this road-ready truck and put it to use right away.
5. 2021 Freightliner M2 106 Heavy Duty — Dump Truck
Freightliner delivers with the M2 106 Heavy Duty dump truck. Featuring 350 horsepower, this powerful truck can handle the most rigorous of jobs. Ideal for construction, agriculture, and junk removal, this truck is designed for ultimate durability. Built on the reliable chassis of the Freightliner M2 106, this dump truck features a large dump body and TufTrac suspension. Add this road-ready truck to any commercial fleet size and use it right away to increase the amount of work done on a job site.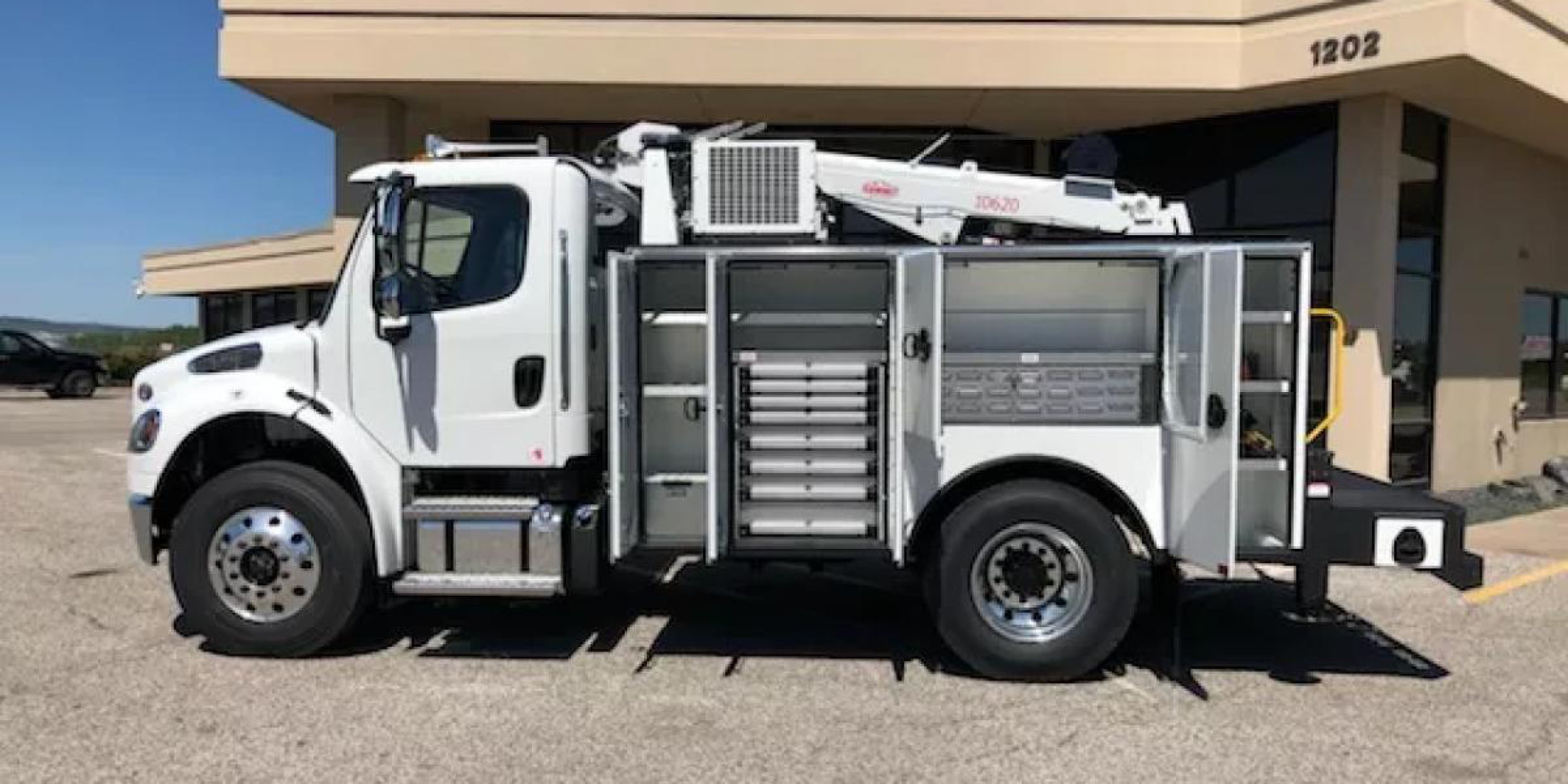 6. 2021 Freightliner M2 106 Heavy Duty — Tool Truck
Another work truck built on the Freightliner M2 106 Heavy Duty chassis, this tool truck is perfect for electricians, plumbers, and HVAC technicians. With ample tool storage and easy-open side doors, this truck gives you faster and easier access to tools, parts, and equipment. With the Cummins L9 delivering 350 horsepower, this truck can take work crews anywhere. A work-ready option, you can purchase this truck for immediate use, allowing your crews to pick up more work or complete existing jobs ahead of deadlines.
7. 2020 Isuzu NPR HD — Landscaping Body
Another Isuzu NPR HD, this work-ready truck makes the list of must-see trucks due to its unique and versatile truck bed. When upfit with a landscaping trailer bed, this truck makes loading and unloading equipment efficient. Removable sidewalls and dual folding ramps add to the truck's versatility. Built on the Isuzu NPR HD chassis, you will enjoy the outstanding fuel efficiency of this cab-forward truck. With ample seating room, multiple crew members can travel to landscaping jobs in comfort. Already equipped with everything necessary for the road, this truck makes a great quick addition to a growing landscaping or construction fleet.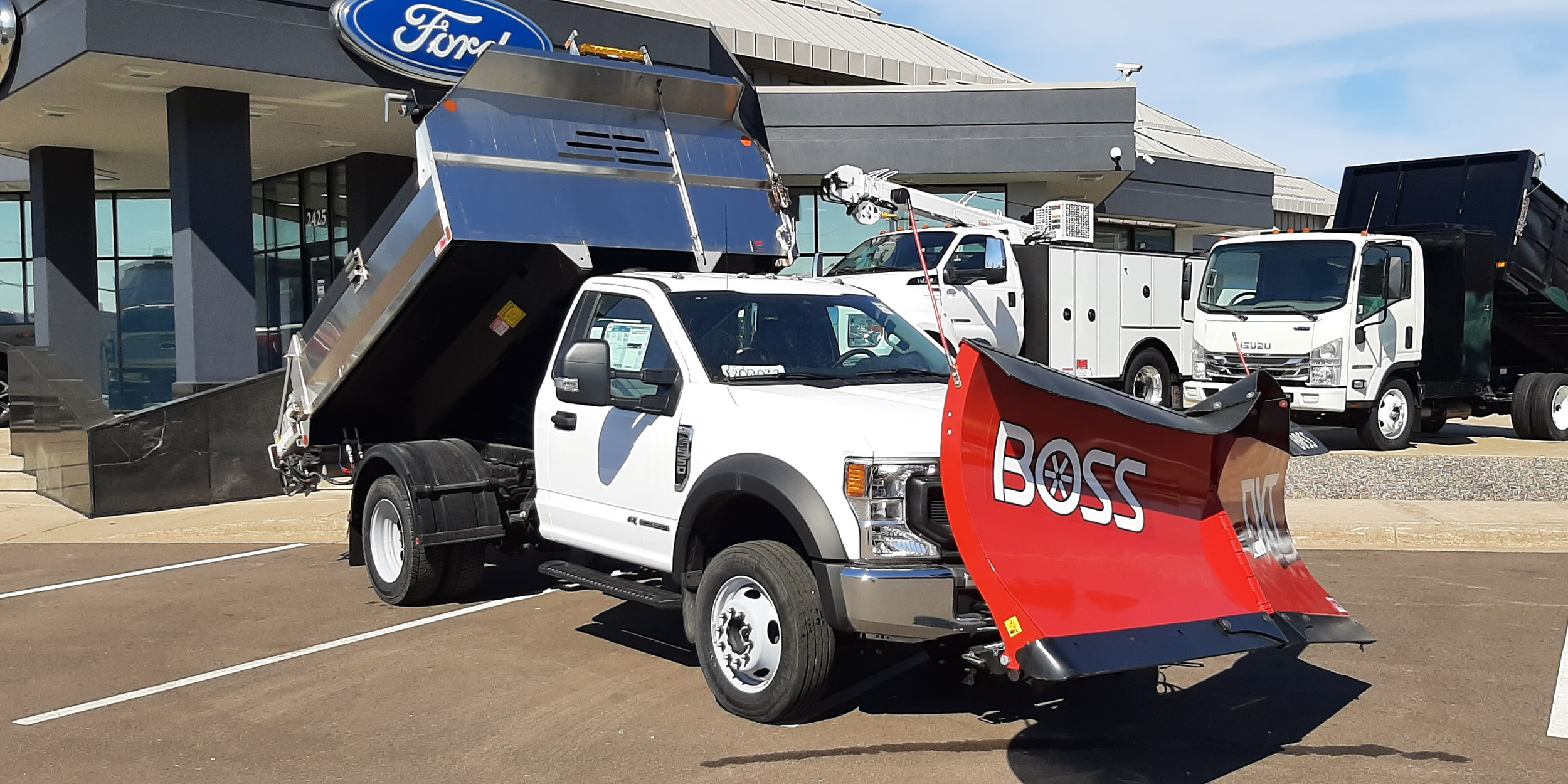 8. 2020 Ford F550 Snowfighter — Plow Truck
This Ford F550 Snowfighter plow truck is the perfect machine to beat all of the challenges. If your business is in the plowing industry, this versatile truck is a must for your fleet. It has a 9ft stainless steel hydraulic dump, 10ft Boss articulating v-plow, tailgate salt, and sand spreader, and much more. Along with all those features, the snowfighter is on the F550 Super Duty chassis, the most capable light-duty chassis ever built! This truck is also designed to be used during the summer work months as a landscaping or construction truck with its versatile dump. This truck will work for you!
The Benefits of a Work-Ready Truck
Work-ready trucks are an excellent choice for a growing business. When you opt for a work-ready truck, you'll enjoy these benefits:
Immediate use: The most notable benefit of a work-ready truck is that there are zero delays between the purchase of the vehicle and its immediate use. This means a faster ROI.
Industry-specific features: Work-ready trucks are designed to meet the needs of a specific job. For example, the above Isuzu NPR HD upfit with a landscaping trailer bed was crafted to make it easier for landscaping crews to get their job done efficiently. These industry-specific trucks will improve your team's abilities to perform jobs faster, leading to more opportunities for growth.
Increased safety: When you use a truck that wasn't designed for the job at hand, you're putting your crew at risk. Work-ready trucks are created to meet the needs of a specific job, which means the job can be performed safely. Using a Freightliner upfit with a dump body, for example, would allow crews to haul materials such as aggregate safely and in compliance.
Visit Us at Boyer Trucks Today
If you are looking to purchase a work-ready truck, come visit us at Boyer Trucks today. We carry a quality inventory of both new and used work-ready trucks. Our experienced staff will be happy to assist you in finding the ideal work truck to meet your specific needs. Whether you're looking to purchase a refrigerated van or a side-dump truck, we have you covered. Boyer Trucks also offers a large selection of cab-and-chassis commercial vehicles. We are able to customize these cab-and-chassis trucks and add any type of body to fit your business needs. Additionally, our dealership is paired with a commercial vehicle service center. This allows you to schedule repairs and maintenance for other fleet vehicles all in one visit. For your growing business, a visit to Boyer Trucks can ensure ongoing success. Stop by today.