Common Uses for our Available Box Trucks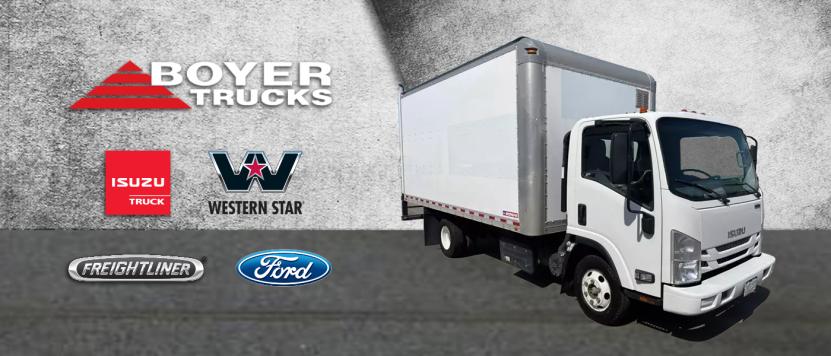 Box trucks, also known as moving trucks, are among the most popular commercial vehicles on the market today. Due to their versatility, box trucks make up the bulk of vehicle fleets in many different businesses - from furniture stores to newspaper companies.
What is a Box Truck?
Box trucks are a chassis cab truck that have an enclosed cargo space attached to the back. Unlike cargo vans, which are unibody, box trucks are designed with a cargo box attached to a chassis. Box trucks provide an enclosed space that is ideal for transporting cargo that needs to be protected from the elements. Most box trucks have a separate cabin without access to the rear and will feature garage door-like roll-up doors.
Box trucks are also commonly referred to as cube vans, box vans, or cube trucks due to the cube shape of its cargo space. Box trucks are used by a variety of industries and are a great vehicle for carefully transporting items.
Do You Need a CDL for a Box Truck?
The license required to drive a box truck varies according to the type of truck you purchase. If the Gross Vehicle Weight Rating (GVWR) load is above 26,000 lbs, you will need a commercial driver's license (CDL) to operate. Most industries use smaller box trucks that are built to carry a maximum load of fewer than 26,000 lbs. For this reason, a majority of businesses do not require operators to have a CDL.
Smaller box trucks will usually suffice for short-distance hauling jobs, which is why moving companies and storage businesses most often purchase light-duty box trucks for their fleets. If you are uncertain whether or not the box truck you are interested in requires a CDL to drive, be sure to inquire with your sales representative.
What are Common Uses for a Box Truck?
Box trucks are commonly used for the transportation of items that need protection against the elements. With a completely enclosed cargo space, a box truck will allow you to move items without exposing them to the weather. The extreme versatility of a box truck means it can be used for a vast array of transportation needs. You'll often see them at work in the following industries:
Moving companies
Storage facilities
Parcel delivery
Food delivery
Furniture companies
Appliance transportation
Newspaper/magazine businesses
Box trucks can be customized in a variety of ways to fit the needs of almost any industry. In some cases, they can be outfitted with refrigeration for the transport of perishable goods. The size of the box truck will play the biggest role in tailoring the vehicle to your use.
Take A Look At Our Great Options Available For Box Trucks:
Location Available At:
BOYER SAVAGE
8025 W Hwy 101 Savage, MN 55378
(952) 846-6900
Location Available At:
BOYER ST. MICHAEL
4631 Odessa Ave NE St. Michael, MN 55376
(612) 676-3800
Find More Options Here: Boyer Box Trucks
Boyer Trucks has been serving the midwest since 1927. With 6 locations across Minnesota, Wisconsin and South Dakota we are your trucking experts. For box truck sales, parts and service our experienced and knowledgeable sales team is here to serve you.
We sell and service industry leading box truck manufacturers such as Isuzu, International, GMC, and Freightliner. Boyer is passionate about helping our hardworking community members find the box truck that will best fit their needs.
Call or visit us today: (612) 676-3800