Boyer Trucks Donates $27,000 Matco Tool Box and Tools to Heavy Duty Truck Technology Program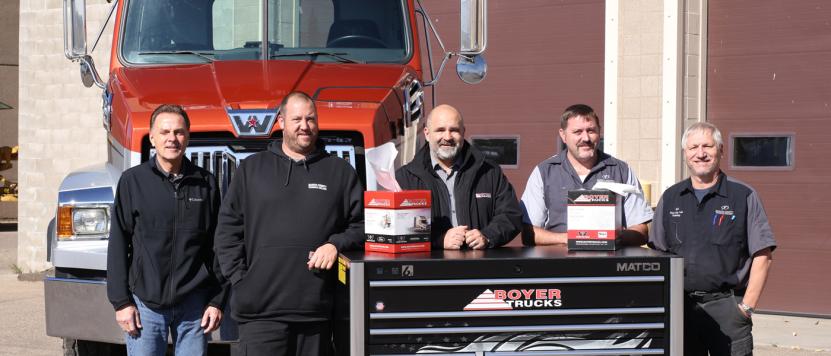 Diesel Technician Students Receive Support from Trucking Industry Leader
Trained heavy duty truck technicians and diesel technicians are in high demand across the country. Industry leaders such as Boyer Trucks, are offering high salaries (up to $100k per year), sign on bonuses, 401k and outstanding medical coverage in an effort to attract the best diesel technicians. Colleges and vocational programs that provide nationally accredited certfications and degrees offer students the best advantage and training to land these lucrative careers working on heavy duty trucks.
The Heavy Dutry Truck Technology program at Dakota County Technical College in Minnesota is accredited by ASE Education Foundation, and one of the only schools in Minnesota that offer a Tool Box assistance program for their students. This past October, Boyer Trucks donated a $27,000 Matco Tool Box full with tools to the Heavy Duty Trucks Technology program to enable students to continue their education while reducing the burden of tool costs.
According to Edwin White, faculty at HDTT, "Boyer has been a long-time supporter of our program". "In the past, we have had several students pursue careers with them. We currently have several students working for them while attending class. This donation allows them to use their personal tools on the job while having access to tools for their education. We appreciate everything Boyer Trucks does for our students and program."
Brett Weaver, the lead recruiter at Boyer Trucks, is a huge advocate for the HDTT program and the curriculum it provides gradudates to succeed in the industry. "The program helps develop not only the skills future technicians will need to develop into Master Techs on the technical side, but also the soft skills they will need to thrive in the workforce of today and the future."
About Heavy Duty Truck Technology Program
At Dakota County Technical College, the Heavy Duty Truck Technology program allows students to learn all aspects of heavy-duty truck repair and maintenance. The program focuses on class 7 and 8. Areas of instruction include electrical and electronic systems, emissions, steering/alignment, foundation brakes, air brakes and anti-lock brake systems. Students perform diesel engine troubleshooting, overhauls and tune-ups on electronic engines. Clutch, transmission, drive axle repair and overhaul are taught along with welding instruction, preventive maintenance, and HVAC. Students will be given the opportunity to become a state of MN certified commercial vehicle inspector.
The HDTT programs offers a degree, diploma, and certficate option.
Areas of instruction include:
Electrical and electronic systems
Steering/alignment
Foundation brakes
Air brakes
Anti-lock brake systems
You will perform diesel engine troubleshooting as well as overhauls and tune-ups on both mechanical and electronic engines. Clutch, transmission, drive axle repair and overhaul are taught along with welding instruction, preventive maintenance and HVAC.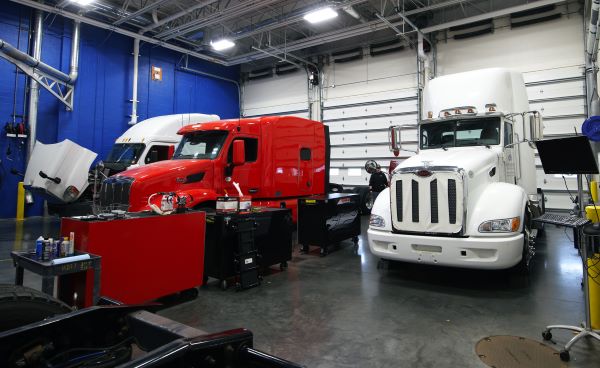 Join the Boyer Trucks Team Today
Boyer Trucks is always looking to add to our team of highly skilled and trained diesel techs and heavy duty truck technicians. If you or anyone you know are interest please reach out to Brett Weaver for more information: bweaver@boyertrucks.com
Sign-On Bonus: $10,000 for Trained Diesel Technicians
Apply today: https://www.boyertrucks.com/careers