Top 10 Industries That Use Isuzu Commercial Vehicles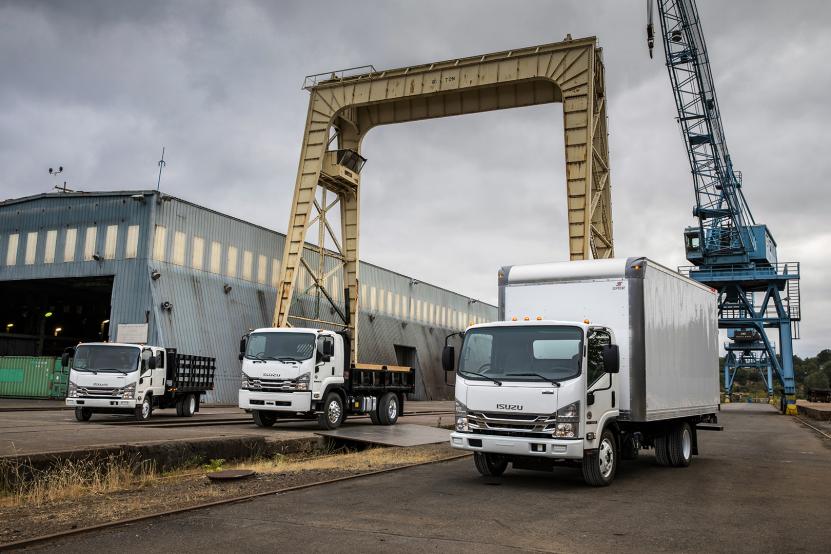 Is an Isuzu Work Truck the Right Fit for You?
Isuzu has long been a trusted name in the commercial vehicle industry. In fact, Isuzu Commercial Truck of America announced that the B10 durability rating of its 4HK1-TC diesel engine has been increased to an incredible 375,000 miles. Known for their reliable drive trains, powerful engines, and superior on-road performance, Isuzu commercial vehicles are counted on day after day for numerous industry-specific tasks. Recently, the Isuzu NPR-HD Gas has taken center stage as a go-to work truck. Isuzu's N-Series gas trucks feature powerful 6.0-liter V8 Vortec engines with an overdrive 6-speed automatic transmission. Extra features that make this Isuzu work vehicle stand out include all of the following:
100,000-mile maintenance-free ignition system
Long-life timing chain
Cast stainless steel exhaust manifolds
Durable frame, axles, and brakes
Hexapod-built cab with a panoramic windshield and side windows for improved driver visibility
One of the most unique and convenient features of the Isuzu LCF cab design is that it tilts forward to allow complete access to the engine and transmission. This makes it easy to quickly tackle routine maintenance. For companies considering investing in the Isuzu NPR-HD Gas, the following guide will outline what industries will benefit most from its use.
1. Landscaping
If you operate a landscaping business, having the right work truck to haul tools, equipment, and supplies is a must. The Isuzu NPR-HD Gas is a perfect fit. This powerful vehicle is a great landscaping work truck for all of the following landscaping specialties:
Retaining wall construction
Deck and patio construction
Fire pit installation
Tree service/removal businesses
Lawn service
Ponds and waterfall hardscape
Softscape services
With a proven design, an Isuzu commercial truck can be customized to meet the hauling needs of any landscaping business. The durable chassis can be outfitted with a flat bed or stake bed to ensure easy transportation of equipment and materials.
2. Delivery
Another subset of companies that benefits from the use of an Isuzu box truck is those in the delivery business. All of the following companies specializing in delivery services should consider adding this powerful box truck to their fleet:
Home furniture
Office furniture
Beer and liquor
Grocery store
Appliance
General freight
Food
Car parts and tire
Delivery businesses will enjoy the improved fuel economy of the 6.0-liter engine in the Isuzu NPR-HD Gas truck. In addition to offering fuel savings, the Isuzu NPR-HD Gas is the top commercial vehicle for delivery agencies due to its improved driver visibility and maneuverability.
3. Heating & Plumbing
Those working in the HVAC industry understand how necessary the right vehicle is in accomplishing their work. A quality work truck will provide reliability, comfort, and safety. The Isuzu NPR-HD Gas is a trusted choice for those working in heating, air conditioning, ventilation, and plumbing as it offers all of these traits and more. From hauling heavy equipment to delivering a new air conditioner or furnace, the Isuzu work truck is designed to provide the capabilities required by HVAC and plumbing businesses. In addition to being a true workhorse, the Isuzu NPR-HD Gas truck features a comfortable cab with extra storage space for tools and equipment, making it a great heating and plumbing work truck.
4. Vending Machine Services
For a reliable vending machine truck, companies don't need to look any further than the Isuzu work truck. With powerful hauling capabilities, these commercial trucks make the perfect fit for all of the following vending machine businesses:
Corporate
School and government
Food
Soda and drink
Not only can the Isuzu NPR-HD Gas truck handle hauling heavy vending machines, but these trucks are also designed in numerous sizes, allowing businesses to carry additional equipment in the cargo bay. This makes providing vending machine services more efficient, ensuring maximum profitability.
5. Junk Removal
Whether it is a residential junk removal business or a commercial junk removal service, any company operating in this space needs a heavy-duty truck to rely on for daily work. The Isuzu NPR-HD Gas is a quality junk removal truck option. With numerous body types and sizes available, businesses can pick the ideal truck to match their operation needs. Many Isuzu commercial trucks are even equipped with dump features, making it easier to off-load large hauls of junk. Additionally, the Isuzu chassis is utilized for numerous garbage trucks, making it a great fit for commercial waste management removal.
6. Movers
Every day, moving companies make it possible for residents and businesses alike to transport their belongings from one space to the next. For moving businesses in need of additional moving vehicles for their fleet, the Isuzu NPR-HD is a great choice. Home, office, and retail movers will all benefit from its excellent fuel economy and reliability. Additionally, Isuzu commercial truck cabs can be customized to allow for up to seven crew members. This makes it a great fit for moving companies that need to transport a large crew to each job.
7. Electricians
The Isuzu NPR-HD Gas is a sought-after vehicle for electricians who need to get from point A to point B with important tools and equipment on hand. For companies seeking out a new electrician work truck, the Isuzu is worth consideration. These trucks offer reliable performance, ample cargo space, and improved fuel economy. For businesses that operate in any of the following verticals, an Isuzu work vehicle might be the perfect fit:
Residential electricians
Commercial electricians
Emergency repair & services
Storm damage services
8. Construction
From designing new homes to building high-rises, the construction industry is responsible for keeping people and businesses housed. With construction comes the need for a truck that can match the rigors of the job site. The Isuzu NPR-HD Gas makes a quality choice for a construction work truck. Companies across all of the following construction-focused businesses can benefit from the addition of an Isuzu work truck to their fleet:
Residential construction
Commercial construction
Kitchen/bath remodelers
Roofing and siding installers
Flooring installers
Painters
What is it that makes an Isuzu commercial truck ideal for the construction industry? For starters, these trucks are durable, capable of handling the tough rigors of a construction job site. In addition, Isuzu's work trucks are designed to provide all the hauling capabilities needed, paired with improved fuel economy. Finally, the Isuzu truck can be equipped with ample cab space, ensuring crew members can comfortably ride to job sites.
9. Agriculture
Across the nation, farmers and ranchers are hard at work every day ensuring people are fed and resources delivered. For those who work in ag, finding the right truck to match the job at hand is a must. The Isuzu NPR-HD Gas truck makes a great agricultural work vehicle with its powerful engine, reliable transmission, and customizable bed. Those looking for a vehicle to aid in livestock production, crop farming, general farm use, or farmers market transportation should consider adding an Isuzu work vehicle to their operations. These trucks can be designed with a dump truck-style bed for hauling aggregate materials or with a cargo bay that will protect important goods. No matter how the truck is designed, it will handle anything ag life delivers.
10. Rental Companies
Truck rental companies count on their fleet to reliably transport a variety of goods day in and day out. Whether you use it for rental, personal reasons, or commercial hauling, a key to any rental truck fleet is choosing vehicles that offer extreme reliability. The Isuzu NPR-HD Gas truck features a 100,000-mile maintenance-free ignition system and long-life timing chain, making it a perfect pick for rental truck use. Rental businesses can rest assured that the investment will continue to offer steady service year after year.
Talk to the Team at Boyer Trucks Today
For companies asking themselves, "What is the best work truck for my industry?" Boyer Trucks is here to help. Talk to the team at Boyer Trucks Minneapolis today to find out more about the Isuzu NPR-HD Gas truck as well as available financing options.