6 Reasons to Visit Our New Sioux Falls Location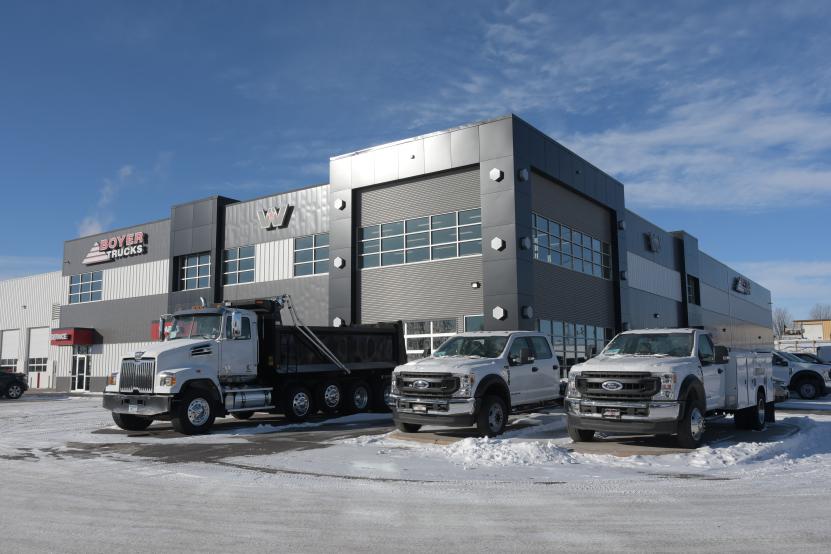 Learn Why You Should Visit Our New State-of-the-Art Location!
Whether you're looking to purchase a new work truck for your fleet, or you need your existing commercial vehicle serviced, we invite you to visit our new Sioux Falls center, conveniently located off I-229. Our new Sioux Falls location specializes in selling new Ford and Western Star commercial vehicles. Also at our Sioux Falls location, you will find a large, used light- to heavy-duty commercial vehicle inventory. At Boyer Trucks, we are constantly looking for better ways to serve our local community with the best truck services and purchase options around. With the recent opening of our Sioux Falls location, we took extra time to home in on what makes our service and sales center stand out. If you need a reason to visit our Sioux Falls dealership and service center a try, here are six:
1. Our Dedication to Superior Customer Service
No matter which of our locations you visit, you will quickly recognize our dedication to superior customer service. Putting the customer first is simply the Boyer Trucks way. At our new Sioux Falls location, you can expect all of the following from our customer-centric staff members:
Friendly and helpful advice: You can count on our team in Sioux Falls to greet you with a smile and treat you with respect. We believe a little kindness goes a long way. From assisting you in finding the right part for your truck or trailer to working with you to find the ideal financing options for your new truck, our staff is ready to help.
Efficient services: Whether you're looking for a new vehicle or bringing your truck in for a DOT inspection, you can count on our Sioux Falls team to provide you with efficient services. We understand how important it is for you to get on with your job. We will never waste your time. Our goal is to get you back on the road as quickly as possible.
Fair pricing: Part of quality customer service is offering fair pricing on trucks and services. When you visit us, you can expect full transparency on costs upfront. We don't like hidden costs either.
2. Our Quality Selection of Services
Keeping your fleet well maintained and on the road is easier with our extensive selection of services. We can help you with basic maintenance or complex repairs. The following are all the services offered at our Sioux Falls location:
Air Conditioning
Alignments
Alternator/Starter Repair
DOT Inspections
Drive Shaft Repairs
Electrical Engine Repairs
Electronic/Electrical Repairs
Engine Rebuilds
Engines
Express Lane Service
Flywheel Machining
Frame Alignment
Glass repair
Motorhome Repairs
Oil/Lube Maintenance
Radiator Repairs
Step Van Service
Suspension/Springs Repair
Trailer repair/Services
Transmission/Differential
Warranty on Authorized Products
Welding/Fabrication
3. Our Extra Amenities
At Boyer Trucks, we are passionate about going the extra mile for our customers. When you visit our new Sioux Falls location, you can expect these extra amenities:
Customer Lounge: Need a relaxing place to wait for your truck to be serviced? We offer a comfortable customer lounge.
Free Coffee: Keep yourself fueled and ready for the day ahead with our complimentary coffee.
Hotels Nearby (transportation provided): If your truck is going to be in the shop overnight, we are near an array of hotel options. We'll even transport you there!
Local Restaurants or Food Delivery: Need to grab a bite to eat while you wait? We're near a selection of local restaurants, or you can even have food delivered to our lounge.
Satellite TV: Pass the time a little faster by catching up on a show or watching the game.
Tractor/Trailer Parking: If you need a place to park your tractor or trailer, we have convenient parking on site.
Vending Machines: Grab a quick snack while you wait for your truck to be serviced with our vending machine options.
Wi-Fi: Surf the web while you wait for services with our complimentary Wi-Fi.
Workspace in Driver's Lounge: Need to do some paperwork? We have a dedicated workspace in our driver's lounge.
4. Our Dedication to the Local Community
At Boyer Trucks, we are proud to be part of the local community. When you visit our Sioux Falls location, you're supporting a local business. Because we are a local business, we care about our reputation. We will always go above and beyond to ensure that our neighbors can count on us. Our goal is to become a trusted name in the Sioux Falls area.
5. Our Years of Expertise
Your work truck is a major business investment. Whether you're a local landscaping company operating a single work vehicle or a multinational delivery business with a fleet of semis, you need to know that the people working on your truck or selling you a new commercial vehicle know what they're doing. At Boyer Trucks, you can count on our years of experience to guide us in everything we do. While our Sioux Falls location might be new, we've been in the industry for a long time.
6. Our Convenient Location
Our new Sioux Falls location is strategically placed to better serve the South Dakota, Nebraska, Iowa, and Minnesota trucking community, and anyone passing through needing service, parts, or sales. Often, searching for a local commercial truck dealership and service center is truly about convenience. If you live in the Sioux Falls area, visiting our dealership can cut down on travel time. Located right off I-229 and fewer than three miles from the airport, we are easy to reach. Getting on and off the highway to visit us is quick and efficient. We are also close to gas stations, restaurants, hotels, and shopping centers.
Visit Boyer Trucks Today
If you are looking for a local commercial truck dealership and service center, we invite you to visit our new Sioux Falls location. At Boyer Trucks, our focus is on providing the highest quality truck services possible and being a trusted choice for new and used commercial vehicle purchases. Feel free to reach out using our local Sioux Falls number below, or contact us toll-free from anywhere on the road. We look forward to assisting you soon.
2101 E. Benson Road Sioux Falls, SD 57104 Get Directions
TOLL-FREE: (877) 269-3773
LOCAL: (605) 336-6100
FAX: (605) 334-4855
AFTER-HOURS SUPPORT: (715) 394-2460